"Remoteness" is probably the best way to describe 2020 which, as we move forward, most of us might direly hope will become a distant memory. Despite such wishes, the year's events – dominated by the COVID-19 outbreak which affected even the most remote areas on Earth – are highly likely to haunt our individual and collective consciousness for quite a while. This is because both the bigger picture of 2020 and its finer details, serve as a constant reminder that we have never found ourselves more remote from our loved ones and our "normal" ways of life.
Speaking of seeing the big picture and its fine details, Earth Observation (EO), the domain best associated with such capabilities, has had a remarkable year despite the pandemic. So much so that what comes to mind are the words of the great Kurt Vonnegut that "History is merely a list of surprises". Therefore, as we "prepare ourselves to be surprised yet again", we take a look at key 2020 trends from the world of remote sensing and EO and muse over their potential impact. This article is the first of two, each presenting 5 key dimensions expected to define the EO sector in 2021 and beyond.
1. Developments in the EU Earth Observation Ecosystem
Copernicus, along with the European Earth Observation community built around it, have every reason to gaze into the future with confidence. This is driven by the significant milestones achieved so far, including (i) the establishment of 6 operational core services providing data and products to specific sectors; (ii) the development, deployment and operation of a unique constellation of satellites (the Sentinels), which alongside contributing missions and world-class in-situ capabilities, offer a wealth of EO data in support of numerous societal areas; and (iii) the steady development of a vibrant downstream sector which is gradually bringing the benefits of EO to the various users. All these together underline the transformative power of Copernicus, which carried on strongly in 2020, and seems poised to do so even more in the future.
The new EU Space Regulation sends a positive message to the sector not only thanks to the ambitious budget allocated to Copernicus for the next 7 years (for more see below) but also through the establishment of the EUSPA – the EU Agency for the Space Programme. Whilst the full scope of its responsibilities is under consolidation, the EUSPA is expected to support market development activities around Copernicus and EO – building on several years of expertise and best practices developed whilst promoting the European GNSS programmes. Should you be interested in learning more, we highly recommend the dedicated EOcafe organised by our e-shape partner, EARSC.
Another important "ecosystem development" is the appointment of Josef Aschbacher as the next Director General of ESA. Currently serving as ESA Director of Earth Observation Programmes and Head of ESRIN, Dr Aschbacher has already communicated a strong intention to prioritise commercialisation efforts. His vision will be reflected within the "ESA Agenda 2025" a publication to be released in 2021.
These promising developments are likely to give rise to a multitude of new initiatives – in addition to the already highly active landscape depicted in Figure 1 below.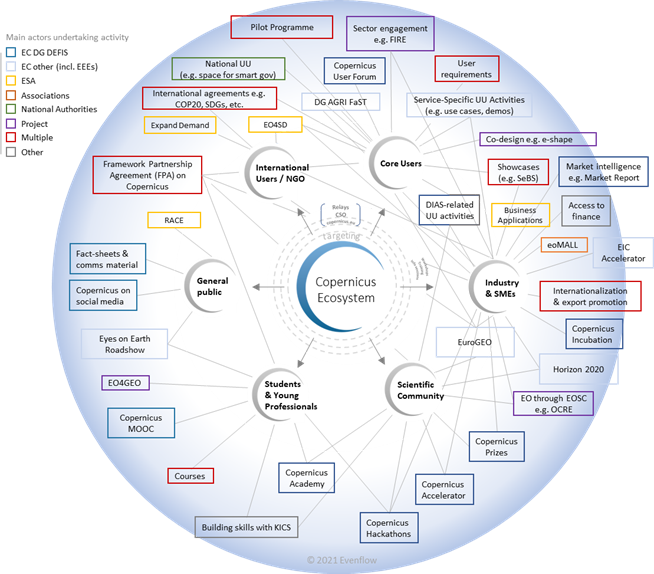 2. Public Investment – larger budget, greater ambition
Just before the winter break, on 16 December 2020, the Council and the European Parliament have reached a provisional political agreement on the regulation establishing the 2021-2027 EU space programme. The agreement clearly recognises Copernicus as an engine for growth, innovation, and environmental stewardship, assigning it a budget of approx. €5.5 billion for the next 7 years. This figure might actually rise further depending on the final outcome of the recent EU – UK talks on the latter's participation in Copernicus. Considering these developments alongside the record investments in Earth Observation activities pledged by the ESA member states in 2019, we can safely conclude that public investment will give rise to new opportunities in the near future.
Moreover, just this past week, the EU Commissioner, Thierry Breton, has announced the official launch of the Cassini (Competitive Space Start-ups for INnovatIon) fund. With a budget line of €1bn, Cassini aims at boosting start-ups and space innovation, providing support throughout the full innovation cycle from business idea to industrialisation.
All these developments underpin Europe's ambition and determination to "go green" whilst, at the same time, supporting industrial competitiveness.
3. Going Green
At the dawn of 2021, it is no overstatement that our world stands at a critical juncture. Delivered only two years ago at COP25, the opening remarks of the UN Secretary General still echo in our ears! Decades of irresponsible and harmful human activity have brought on the disastrous reality of climate change as we stand reminded by the frequency and magnitude of extreme natural hazards (who can forget the devastating 2020 fires?). Humanity needs to act urgently and decisively towards limiting global warming, reducing its reliance on fossil fuels, and implementing sustainable policies in all economic sectors. Sustainability must stop being just a trendy keyword and become the standard of daily activities particularly considering the projected population increase – 10 Billion by 2050, two-thirds of which are estimated to be living in urban areas. This increase will not only lead to a soaring demand in food (50% over 2013 levels) but is bound to have a significant impact on the environment accelerating degradation. Clearly, we need to rethink and overhaul our current means of producing food, consuming natural resources, and living in cities. This stands true for all our activities be these on land or in the ocean (seas), whose health we need to safeguard by practicing a sustainable Blue Economy (see G7 Blueprint).
All this has been exacerbated by the impact of the COVID-19 pandemic disrupting supply chains and challenging business processes. In response, we must mobilise innovative forces across borders and sectors, and develop clean, smart, and precise solutions. Against this backdrop, the EU has put its Green Deal in motion. EO-based solutions are expected to play a central role in achieving the Green Deal goals as demonstrated by the recent flurry of EO-relevant topics under the H2020 Green Deal Call. From wildfires to innovative cities, and from ecosystem services to the farm-to-fork strategy, EO is likely to be a major contributor to the success of our efforts to build a better future.
At a more global level, the fact that the incoming Biden administration (USA) has made climate a top priority is also likely to generate momentum for innovative solutions, including those powered by EO. Although the concrete details of the Biden Climate Plan have not yet been laid out, there is a legitimate expectation that the Biden administration will seek to strengthen NASA and NOAA's Earth-observing capabilities in an effort to better understand climate change. This is supported by top experts of the Obama administration.
These "green" developments not only drive public investment, but they also guide industrial policies and affect private investment too. We shall address these next.
4. Industrial Policy
The New Industrial Strategy for Europe, published March 10, 2020, paves the way towards global competitiveness, climate-neutrality, and digitalisation. These goals can be strongly supported by EO as directly recognised: "the Space technologies, data and services can strengthen Europe's industrial base by supporting the development of innovative products and services, including the emergence of cutting-edge innovative technologies".Its "sister" SME Strategy for a sustainable and digital Europe, published on the same day, goes a few steps further by effectively launching the aforementioned Space Entrepreneurship Initiative "Cassini" which shall encompass acceleration, incubation, seed-funding and pre-commercial procurement activities. The SME strategy also recognises that "SMEs do not yet fully benefit from data, the lifeblood of the digital economy" and that "advanced disruptive technologies, such as blockchain and Artificial Intelligence (AI), Cloud and High Performance Computing (HPC) can dramatically boost their competitiveness". As the implementation of these strategies is expected to ramp up as of 2021 onwards, we can expect the launch of several activities in support of start-ups and scale-ups commercialising EU space technologies, including, of course, EO.
5. Private investment – unlocking new opportunities
In its efforts to anticipate the big trends of 2021, Visual Capitalist has analysed numerous articles, whitepapers, and podcasts, concluding, among other things, that "ESG reaches a tipping point". Closely linked to stakeholder capitalism, Environment, Social and Governance (ESG) disclosures seem to have become a prime consideration for private investors. Whilst this might be a natural evolution – possibly revealing a certain degree of opportunism in the face of increasing political attention to climate change issues – despite expectations, COVID-19 appears not to have negatively impacted this trend. Instead, as pointed out by many analysts, it would appear that "the crisis has accelerated the transition to a more purposeful and inclusive capitalism". What is important to note here, is that these are not mere theoretical reflections of analysts but rather practical developments of potentially high relevance to the EO world. For instance, looking at the metrics in the Stakeholder Capitalism Report produced by the World Economic Forum, several could be tackled with EO-based solutions, including GHG Emissions, land use and ecological sensitivity. As a matter of fact, some EO companies are already assisting clients who have secured or seek to secure loans conditioned by sustainable practices. With more projects expected to be launched in 2021 (ESA is for instance supporting various carbon monitoring and supply chain management activities) this is likely to become an important trend in the EO sector.
Beyond such individual examples, what is perhaps the most significant development in this domain is having major investors prioritise the environment and climate-change in their strategies. This is best exemplified by BlackRock, the world's biggest investor with over $7 trillion assets managed, who has made climate change the centrepiece of their investment strategy. This clearly sets the tone and opens significant opportunities for aspiring EO scale ups.
Considering besides the above opportunities the recent mobilisation of private investment in EO-related activities as described in our dedicated article, we can certainly look ahead into 2021 with optimism!
Still to come…
In this article we have just scratched the surface of the bigger picture – deeper insights on the finer details for each of the 5 points raised will be provided in the coming months. In the meantime, tune in next week for another 5 trends that we think will define the EO sector in 2021.