Increasingly frequent, there is news about renewable energy (RE) overtaking traditional energy sources. In the first half of 2020, and for the first time ever this ground-breaking milestone has been achieved: more electricity in Europe was generated from renewable sources than from fossil fuels. But does this signal a "wind of change"? To assess this, we look into the future development of the field, with particular attention to the wind energy sector, and the upcoming trends in technology, policy, and markets. Similarly to other sectors, these driving forces are interconnected: policy tends to create market opportunities, which in turn drive further technological developments.
Policy trends within a country or region are dependent on multiple factors such as the energy portfolio of the region, robustness of the electrical grid, or available energy in neighbouring countries. Political ambitions of the local government and the overall consistency of its development strategy can also influence policy trends in wind energy.
While European countries share common energy goals to an extent, there are nonetheless substantial differences in their national policies. Denmark is the country with by far the highest percentage of renewable energy penetration in its electrical grid in Europe, but also worldwide. This is partially due to very flexible connections with neighbouring countries established through high voltage DC (HVDC) cables. Neighbours Norway (rich in hydro resources) and Germany are allowing for transfer of energy between offshore platforms and land. Thanks to this, Denmark is able to achieve a considerable share of wind power in its energy portfolio. Wind energy has priority access to the power grid not only in Denmark, but also in Germany, stimulating further development. Germany also has one for the most consistent RE policy, dating back to the 1980s, with a stable political environment and an elaborated local and national banking system supporting financial schemes for renewable energy. Skilful workforce is also largely available in Germany, in crucial fields such as engineering, R&D, and manufacturing. Besides Denmark and Germany, the United Kingdom and Ireland are also investing heavily in wind energy, in particular, offshore wind farm projects. An overview of the percentage of wind electricity demand in Europe is shown below.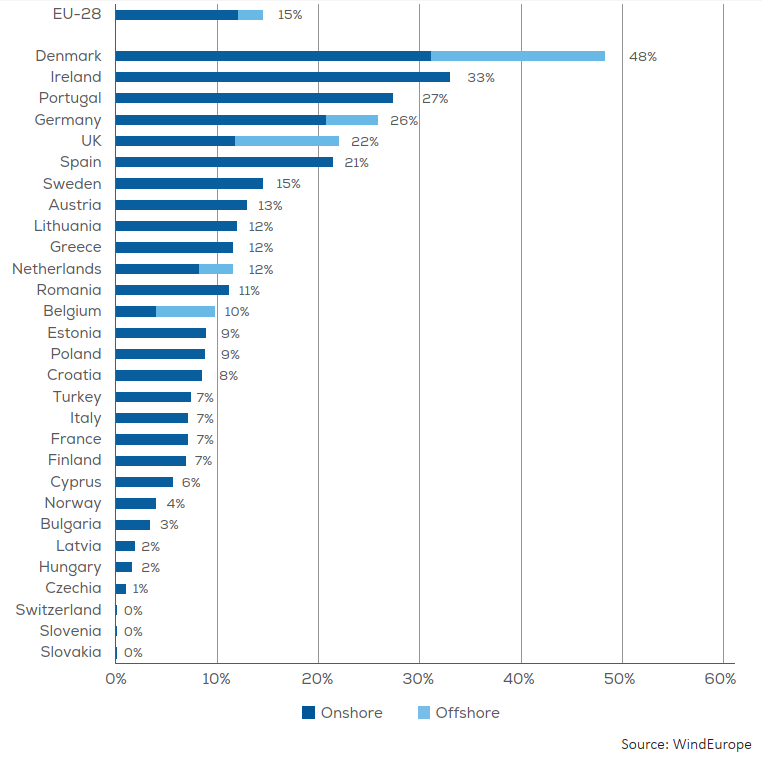 Europe is not the only region presenting significant growth in the field of wind energy. Within the next years a market shift is expected towards Asia and the Americas, including countries with very different policies. Let's take for example one of the leaders in renewables in Asia – China. Every five years, the Chinese government revises the national development plan and adjusts the policy to address deficiencies, which results in periodic increase of the investment in wind energy. China, like Brazil and other countries, uses auctions to reduce the prices of the electricity generated by wind power. Part of the national strategy consists of creating very strong domestic manufacturing capability, and currently many of the biggest wind turbine manufacturers worldwide have factories in China.
Another country with great natural potential for renewables is India. The country was among the first ones to adopt wind energy but has demonstrated very variable policy over the past two decades. Nonetheless, in recent years significant growth has been observed as a result of a push by the private sector. This development can be to a large extent attributed to the complexity and diversity of the policies between states, and the challenges to align policies for RE at the federal level.
A similar situation is documented in the United States, where the importance of a consistent political environment at federal level is also underlined. In 2010, few states started implementing their own wind energy policy (California, Iowa, Texas). Today, the USA is the world's second-largest market in wind energy, while still lacking federal long-term strategies and a clear federal tax credit support scheme. National legislation obstacles limiting the involvement of foreign actors into commercial activities, such as the Jones Act, also made it even more difficult for foreign offshore developers (mostly Europe-based companies) to step a foot in the US market.
In conclusion, the outlook for the increased penetration of wind energy in different geographical regions is very positive. Increased demand will also push further the need for technological innovations. So, let's dive into that now.
A few cutting-edge technologies can be considered crucial for the development of wind energy. The biggest and most prominent one being the deep water offshore/floating turbines. Their development is incentivised by the various issues regarding the social acceptance of onshore turbines, as well as the continuous reduction in LCoE in offshore wind.  In line with this development, Pilot 3.3 of the e-shape project provides a unique product from existing EO data. It shall improve offshore wind resource estimates, thus helping wind farm planning and development. The new product can be further customised upon request from the offshore industry, creating the base for a potential commercial activity. More broadly, different technologies which focus on limited or no dependency on the electrical grid, are rising in popularity. Off-grid wind farms may solve problems in many countries where the power grids are not robust enough to absorb large amounts of renewable energy. For instance, oil and gas companies are working on supplying energy directly from offshore wind farms to oil platforms. Hybrid systems encompassing wind, solar and storage, on the other hand, allow for utilising the negative correlation between wind and solar fluctuation, and compensating it further with stored energy on a system level. Last but not least, we see a steady rise of power-to-X solutions, offering a set of off-grid energy conversion technologies that can be used to store power surpluses from renewable energy sources, allowing for pumping the electricity from a wind farm directly (e.g. for generating green hydrogen, or producing synthetic fuels for air planes and ships). Concepts such as "Green Airports" are made possible thanks to power-to-X. Another notable application of the technology is power-to-transport: using the excessive wind energy to directly charge electrical vehicles (e.g. cars, trains), which in turn can push back the energy to the grid to balance variations in production and load using Vehicle-to-Grid technology.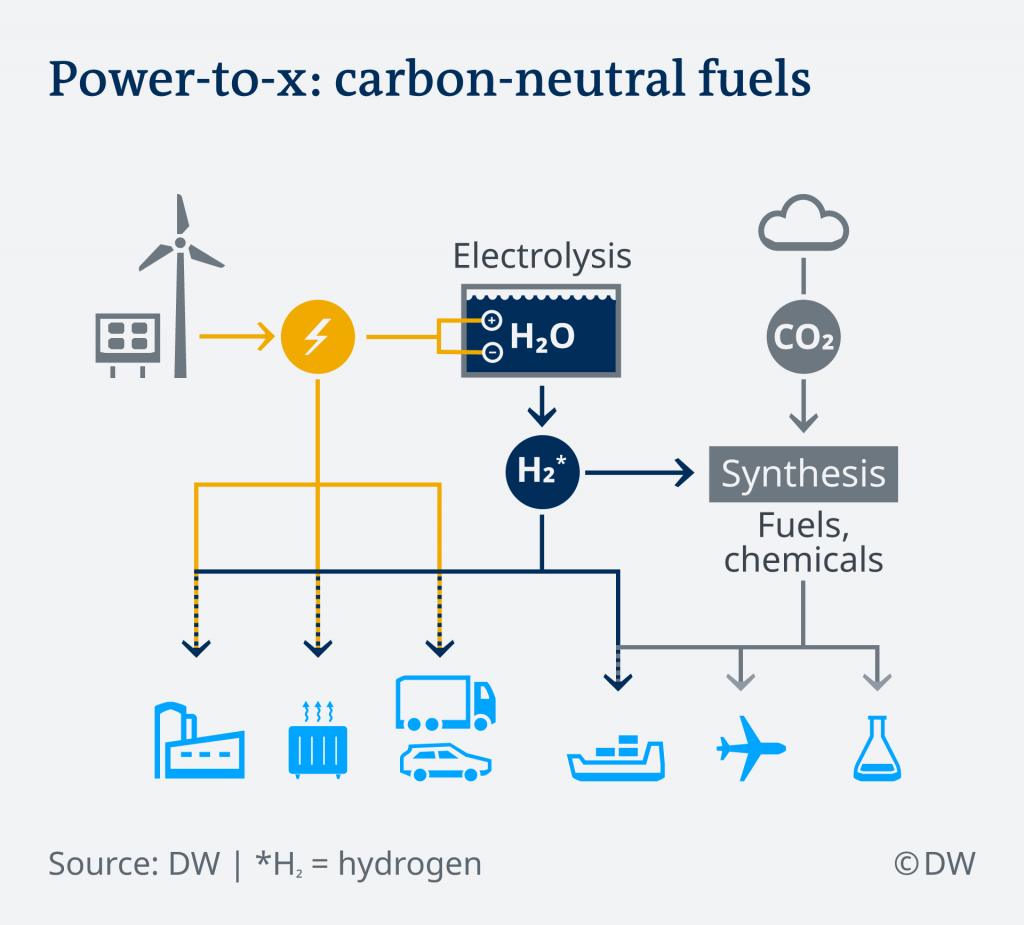 Another set of upcoming technology trends within the wind energy sector are those related to the structure, production and end-of-life of wind turbines. All the wind turbines we see around are AC turbines: inside them electrical power is converted via AC-DC-AC converter. DC turbines, which are under development, will have less components, and can potentially benefit offshore VSC schemes by collecting DC power offshore (therefore eliminating rectifier VSC substation offshore). At the same time, discussions regarding the end-of-life of turbine blades are getting more negative attention. As we now bury tonnes of fibreglass/resin/plastic-made wind turbine blades underground, the search for new materials – equally suitable, but more sustainable (e.g. wood fibre) is more intensified than ever.
The two main markets in the sector are those of turbine manufacturing and of wind farm developers, and they are developing very differently. The wind turbine manufacturing sector is concentrated in the hands of a few large manufacturers (Siemens Gamesa and MHI Vestas together hold about 90% of the offshore market share) and smaller manufacturers are struggling with cut-throat price competition, and often end up being acquired by bigger companies. Unlike the wind turbine manufacturing sector, concentrations of market shares are not common in the developer sector. On the contrary, in the past years many new players – mainly utility companies and oil and gas developers, are joining the market, resulting in increased competition in the wind farm development sector.
The market trends in the wind energy sector are, unsurprisingly, reflecting the upcoming and established technologies discussed above. A central spot of the development of the market is held by Power to X coupled with off-grid / microgrid solutions. In practice, it allows large-scale wind farm development, while bypassing the bottleneck of grid infrastructure reinforcement. And this is even more applicable for private/microgrids, which can be supported by a hybrid system (wind-solar-storage) coupled with hydrogen production.
With such vibrant development and promising technologies, it remains to be seen what the future holds for the wind energy sector. What is sure, is that we will be hearing about it even more, in light of the implementation of the COP objectives and the New Green Deal.
This article is based on contributions from Cathy Jingqing Suo (Technical University of Denmark, DTU Wind Energy department)